The death penalty violates the most fundamental human right – the right to life. It is the ultimate cruel, inhuman and degrading punishment. The death penalty is discriminatory. It is often used against the most vulnerable in society, including the poor, minorities, and people with mental disabilities. Amnesty opposes the death penalty in all cases without exception – regardless of who is accused, the nature or circumstances of the crime, guilt or innocence or method of execution. That does not mean that the person will be freed, only that they will not be killed by their government.
We know that, together, we can end the death penalty everywhere.
We are making tremendous progress – today, 23 states in the U.S. and two-thirds of the countries in the world have abolished the death penalty. Join us.
TAKE ACTION
World Day Against the Death Penalty – Week of October 10, 2021
World Day 2021 will be dedicated to women who risk being sentenced to death, who have received a death sentence, who have been executed, and to those who have had their death sentences commuted, exonerated, or pardoned. More facts about women and the Death Penalty
Join us at these California Events:
Palo Alto – Outdoor Rally Saturday October 9, 2021 – 2:00 to 3:30 at Lytton Plaza in downtown Palo Alto. More information here
San Francisco – Join Group 30 for Honoring Women Loved Ones Sunday October 10, 2021 6 PM Special guests, real life stories on Zoom. More information here. Register at bit.ly/AIUSA30
---
Updates for 2021
The United States is an outlier in the Americas
The United States was the only country in the Americas to carry out executions in 2020. Starting in July of 2020, the Trump administration carried out the first federal executions in 17 years, and five states put seven people to death between them. Amnesty International USA is calling on U.S. President Joe Biden, to commute the death sentences of the 49 individuals who remain under federal sentence of death and urging members of Congress to strongly support legislative efforts to abolish the federal death penalty.
TAKE ACTION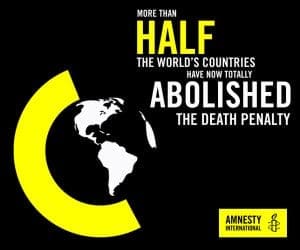 Tweet Amnesty International's 2020 Death Sentences and Executions Report at your Member of Congress
Send The Global Death Sentences and Executions report to your Member of Congress, and tell them to support legislation to end the federal death penalty