The death penalty violates the most fundamental human right – the right to life. It is the ultimate cruel, inhuman and degrading punishment. The death penalty is discriminatory. It is often used against the most vulnerable in society, including the poor, minorities, and people with mental disabilities. Amnesty opposes the death penalty in all cases without exception – regardless of who is accused, the nature or circumstances of the crime, guilt or innocence or method of execution. That does not mean that the person will be freed, only that they will not be killed by their government.
We know that, together, we can end the death penalty everywhere.
We are making tremendous progress – today, 23 states in the U.S. and two-thirds of the countries in the world have abolished the death penalty. Join us.
---
---
The United States
The United States is an outlier in the Americas
The United States was the only country in the Americas to carry out executions in 2020 Read more about Death Penalty trends and human rights in the US.
Amnesty International USA is calling on  U.S. President Joe Biden, to commute the death sentences of individuals who remain under federal sentence of death and urging members of Congress to strongly support legislative efforts to abolish the federal death penalty. More information here.
---
TAKE ACTION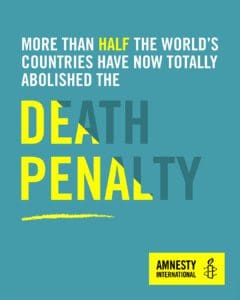 Tweet Amnesty International's 2021 Death Sentences and Executions Report at your Member of Congress
Send The Global Death Sentences and Executions report to your Member of Congress, and tell them to support legislation to end the federal death penalty